Are Paper Towels Lint Free? Lint-free material is a type of material that produces no fluff when used to clean. It can be infuriating when you use a paper towel to clean a surface, and the paper towel leaves behind lots of lint. Some paper towels are lint-free, while some are not, especially those softer, less interlaced paper towels.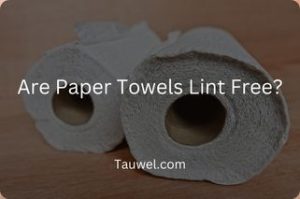 Types of lint-free paper
Finding a lint-free paper towel is not an easy task. You can only find out if it's lint-free until you use it. To save you the stress, below are some lint-free paper towels.
Bounty
These paper towels absorb liquid rapidly without tearing and leave no lint behind, leaving your counter surfaces spotless. In addition to being pleasant to the touch, they are also relatively thick and sturdy.
Tear out only as much as you need with the convenient size selection tool for various mess sizes. The select-a-size function allows you to rip out only as much as you need for any size mess.
Viva paper towels
Viva Choose-A-Sheet has a luxurious feel, fluffy and tender on a delicate surface. They have the strength and durability of the fabric, which enables them to be cleaned similarly to cloth. They are sturdy while dry and stay tough when wet, making them suitable for tackling tough messes.
These paper towels are lint-free and tend to stick to the roll, so if you pull one sheet off, the rest will stick together as well (and you won't be left with a second trailing paper towel).
Microfiber
Microfiber cloths are 98.9 per cent efficient in removing microorganisms from flat surfaces when used with just water. It's lint-free and non-abrasive. Microfiber is hypoallergenic. You don't have to worry about damaging surfaces or leaving lint behind when you clean with microfiber.
Bamboo paper towels
This paper towel is durable, soft, and long-lasting. They are very absorbent, and they are reusable. These reusable paper towels are ideal for use in the kitchen or bathroom, as well as for cleaning around the house, and they are great for cleaning surfaces.
Merrimen – 4 pack centrefeed rolls
These centrefeed embossed rolls are durable, long-lasting, and absorbent, and yet still soft. These lint-free paper towels absorb spills well.
Griots Garage
These towels are polypropylene, not paper; they leave no lint behind after using them. They are tender and long-lasting. These towels can be used to clean windows and surfaces in the home.
Trending Searches
Benefits of using lint-free paper towels
Low lint paper towels are made from a dense mass of fibres, making them strong and long-lasting with outstanding wet and dry strength and absorbency.
These materials keep surfaces lint-free after cleaning, making them ideal for situations where contamination management is critical, such as cleaning instrument parts, tools, food preparation areas, equipment, and machinery before painting or removing sealant.
Reduces the likelihood of contamination on surfaces and equipment.
On dry, delicate surfaces, low-lint paper towels are safe to use since they don't leave behind cotton or paper fibres, reducing the danger of contamination.
Using lint-free wipes, the potential for contamination in food preparation areas and industrial facilities is greatly reduced.
Due to the absence of microscopic fibres present in cotton rags and paper towels, soft lint cloths enable reduced fibre production.
How to Clean Using A Lint-Free Cloth?
Lint-free cleaning cloths are long-lasting. They may be used on various surfaces and, most importantly, are incredibly simple to clean. Simply wet the bar and the stained areas and use the lint-free material to scrub the stained area.
For deodorizing surfaces
Lint-free materials and scented vinegar can be used to clean and deodorize surfaces, glassware, and other home goods. This works well on stains, bacteria, filth, and even streaks.
For removing stains
Lint-free cleaning cloths and detergents can be used to clean garments and upholstery. Put a little water on the affected area of your stained garment.
To remove soap and grime, soak a lint-free cleaning cloth and dampen the affected area with water. You can repeat the same process if the same still remains.
For Removing Dirt and Dust
Window, mirror, and tabletop can be cleaned by using a lint-free cloth and surface cleanser.
For Drying Dishes and Hands
Using the lint-free cleaning cloth will help keep your dishes and hands dry as well as clean.
For Cleaning Tarnished Silver
The first step in removing tarnish from your silverware is to wash it and then polish it with soap and warm water. Then use a lint-free cleaning cloth to polish your tarnished silver to keep it clean and dry.
For Ironing Delicate Items
Protect fragile things from direct heat and blistering while ironing. A lint-free material may be used to protect the object from the iron.
Various types of non-roll paper wipes
Paper towels are pieces of paper that can be used as a wipe to clean or absorb spills. Most people assume that rolled paper is the only paper towel, but other paper towels aren't on a roll. These non-rolled paper towels are C-fold, multifold, scottfold, and single fold.
C-fold paper towels
C-fold goods are big sheets (about 10 inches by 12 inches) that are folded in the form of a "C" into smaller pieces (roughly 10 inches by 4 inches).
Dispensing and storing these more oversized towels are more straightforward and handier because of how they are folded.  These paper towels are designed to be put into a c-fold dispenser for one-by-one dispensing.
C-fold towels come in one-ply and two-ply varieties depending on the amount of absorbency required. Windsoft, Boardwalk, Tork, Kimberly-Clark, Kleenex, Scott, Georgia-Pacific, BigFold, and Acclaim are just a few of the many companies that make c-fold paper towels you can find at your local store.
Multifold paper towels
They are distinct from c-fold towels because they are folded in three layers, like an accordion. These single-ply wipes are roughly 9.2 inches by 9.4 inches and are manufactured by companies such as Kimberly-Clark, Scott, Georgia-Pacific, Windsoft, and Boardwalk. They come in white and brown colours. These paper towels are sturdy and absorbent.
Scottfold paper towels
Scottfold products are 1-ply paper towels that are usually 12.4-inch length sheets. These towels are folded in half; therefore, they differ from the c-fold and multifold towels folded in threes.
For example, Scottfold towels are advertised as a cost-saving equivalent for c-fold and multifold towels, with an estimated 10 per cent cost reduction over the original products. Scottfold towels are also available from manufacturers such as Kimberly-Clark Professional and other similar companies.
Single fold
Single fold towels are similar to scottfold towels; they are also folded in half but bigger. These towels are pre-loaded into dispensers, but they are also available in a Pop-Up Box for single-use dispensing.
As with scottfold towels, single-fold towels are ideal for places that need a low-cost bathroom product range. These luxurious towels are very thick and absorbent.
Single fold towels are also available with recycled material. These towels are available in white, brown, and blue from the same manufacturers as scottfold towels.
What makes paper towels lint-free?
Lint is a particle that is removed from textiles when they are rubbed against any surface. Fundamentally, lint is a fluffy particle that loosely detaches from paper material when rubbed against another surface.
Paper towels with no lint or a low lint percentage are often less soft and thick. There are several well-known makers of lint-free paper towels, such as Scott paper towels, who use cutting-edge technologies, such as UCTAD technology, in the production of their towels.
Do lint-free paper towels absorb well?
Frequently, I see individuals underestimate the absorbency of lint-free towels. In comparison, lint-free paper towels absorb much better than standard paper towels.
Lint-free paper towels have a high absorption capacity. The more thick a lint-free paper towel is, the better it absorbs.
Do lint-free paper towels weigh more?
True, lint-free paper towels are heavier than standard paper towels. This is because they're produced in an absorbent way, which makes the lint-free paper a better choice than fabric towels.
The Scott blue paper towels are known for having low lint content. Yet, they are lightweight. The lightweight rating of the Scott paper towel is 0.160 ounces.
What makes a good paper towel?
Paper towels are created from cellulose, which comprises ground-up plant material such as wood, cotton, and other plants. The cellulose molecules are sugar – but not the sugar we consume – and they attract water molecules. Paper towels are great for absorbing spills.
What are lint-free cloths made from?
Lint-free cloths are often 100% polyester or a polyester/nylon combination.
Are sponges lint-free?
Yes, they are natural cleaning materials that can be used in the home or workplace to clean surfaces.
Are Paper Towels Lint Free – Conclusion
Lint-free textiles are best for absorbing spills and keeping your surfaces unscratched. They weigh more than the usual towels and are best for removing stains and dirt.
Lint is produced when rubbed against a surface. Lint-free textiles help reduce the likelihood of contamination too. Microfibers, bounty, viva paper towels are all examples of lint-free paper towels.