Do you need a bath mat for your bathroom without purchasing one? Most times, we could choose to improvise rather than buy the actual product. Perhaps you are thinking if a bath towel can be used as a bath mat hence the question.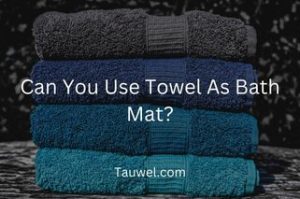 So, Can you use a towel as a bath mat? Of course, you can use a towel as a bath mat. Towels can also be as cosy as bath mats as they are absorbent and thick.
You would just need to pick a colourful towel or an additional towel to create a matching bath mat. Almost all hotels use the bath towel strategy to make bath mats, and if a hotel can use a towel as a bath mat, then why can't you?
However, to use a towel as a bath mat, you'd need to do a bit of stitching on the towel you choose to use.
Having known that you can use a towel as a bath mat, we'd discuss how you can make a bath mat with towels in this article. 
How do I make bath mats with towels?
Making a bath mat with a towel is quite easy, you'd just be needing a few materials and heed some steps. Below are the materials and sewing instructions. 
Materials
Scissors and thread.

Sewing brooches or sewing pins. 

A bath towel.

A sewing machine.

1½ spool of ribbon
Step 1: Fold the towel
If there are fringes on your bath towel, cut them off. Proceed by folding the towel into ⅔ on small sizes. Ensure the viewpoint you want is on top. 
NB – fold the ribbon in half and press it with your finger to formulate a crinkle down the middle to be sure that the ribbon is even on all sides. 
Step 2: Create hem for your bath mat
The ribbon would be needed in this step, however, you'd need to fold the tip of the ribbon to ½ inch to stop it from deciphering.
Begin with the hem at the middle of one of the towel sides, tuck the ribbon in half longways and use your pin or clip on the raw edges of the towel so that ½ of the ribbon is trimming the front rim and ½ of the ribbon trims the rear rim. 
Step 3: Create nice rims around the towel
At the intersections, crease the ribbon at a 45⁰ angle to build a neat and non-perpendicular joint, then, proceed by clutching or clipping the ribbon to the rim of the bath mat.
Continue till you get back to where you began. Ensure you cut down enough ribbon so you'd have plenty to crease the tip under and overlay the beginning point. 
Examine the bath mat thoroughly starting from the front to the rear end to be sure you have enclosed the rims with the ribbon. If you find tiny spots or gaps, fix them before you proceed to the next step. 
Step 4: Sew the ribbon
When you are sure the ribbon is well fixed, sew it with the use of your sewing machine. You can't use a needle and thread for something like this as it needs to be well stitched. Stitch the ribbon to the end, either straight or zig-zag. 
Trending Searches
What is the best material for a bath mat?
There are different materials used to make bath mats, just a few of them are the best. Towels are used as a bath mat because the fibres are super soft and absorbent. Let's find out the best materials you should look for when purchasing a bat mat. 
Memory foam
Bath mats made with memory foam are ultra-comfortable and they are trending recently. These bath mats have unique water absorbency, give extraordinary comfort, and are super easy to maintain. 
Bamboo material
If you prefer solid ground after your bath, then bath mats made with bamboo are the best you should purchase. The choice of bamboo bath mats is adequate as they are immune to water penetration which makes them ideal for damp grounds. These bath mats are long-lasting as their structure is imperishable. 
Cotton material
Cotton is one of the popular materials used for bath mats, which is why towels can be easily improvised as bath mats. Cotton bath mats offer that luxurious feeling your feet need after a shower. These bath mats are durable, quick-drying, with fluffy sensation, and exceptional water porosity. 
What can you make out of an old towel?
Rather than disposing of your old towel, you can use them as an alternative for other purposes. You can DIY all of them without any difficulty. Below are the things you can make out of an old towel. 
Rebrand to a bath mat
You can easily make a bath mat with your old towel by stitching the edges with ribbons. They are soft and absorbent enough to be used as a bath mat. Kindly see the steps above for the best result.
Mold to spa slippers
If you have worn a spa slipper, you'd notice that they are fluffy, porous, and with a good feel during any kind of weather. You can easily make your spa slippers with your old towel. 
Repurpose as a washcloth
Instead of buying a new washcloth, your old towel can be cut into small sizes of a washcloth. It would save you from any further cost and it's eco-friendly. 
Turn into a beach bag
Do you need a beach bag that is super absorbent and durable? Rather than purchasing a new beach bag, you can turn your old towel Into a beach bag and save your money. It would only cost 20 minutes of your time. Besides, the bag would be big enough to contain every of your beach items. 
Make a bib 
This is for those who have a toddler or a baby, and for sure you'd need the bib for your baby. You can save your money by turning your old towel into a baby bib. 
Rebrand to a Swiffer cap
You can rebrand your old towel to a reusable Swiffer cap. Use any piece of towel to make your cap, and cleaning it is easy by just throwing it into a washing machine. 
Turn into a pillow 
Your old towel can be another plus to your household item in the form of a pillow. They would be a good option for a soft pillow on your sofa. 
FAQs
How do I clean a bath mat?
A bath mat is part of those items you need to maintain to prevent the spread of germs and odours. You can choose to either hand wash or machine-wash your bath mat made from any materials.
The materials and the steps you need to hand wash or machine-wash your mat would be emphasized. Below is how you can wash your bath mat easily. 
Materials
White vinegar.

Mild detergent.

Dish liquid soap.

Vacuum.

Soft scrub brush.

Bleach.

Spray container.

Rubber gloves.

Baking soda.

Cloth. 

Sponge. 
Machine-wash instructions
Step 1
Use a vacuum to get the dust or dirt in the bath mat out. You can wiggle the mat to get them out. 
Step 2
Crease the mat into half its size. 
Step 3
Put the bath mat in the washing machine.
Step 4
Set the wash cycle and wash with towels, or other types of mat, or wash it alone. Nb- do not wash with any cloth. 
Step 5
After washing the mat, dry the mat with a dryer or let it air-dry by spreading it on a clothing line or rack.
Hand wash instructions
Step 1
Vacuum or shake the bath mats to get dust and dirt out of them. 
Step 2
Mix 1 cup of water, 2 tablespoons of dish soap, and 1 cup of white vinegar in a spray container. 
Step 3
Spray the mixture on any stain found on the mat and use a cloth to wash it. 
Step 4
Fill a bucket or your tub with water and add your detergent to it. 
Step 5
Wear your gloves and mix the water with your hands. 
Step 6
Carefully scrub your mat with a sponge in the water mixture.
NB– do not submerge a bamboo mat completely in water. 
Step 7
Rinse the washed mat with clean water.
Step 8
Dry the bath mat with a drying machine, or let it air-dry. 
Is a bath mat a towel?
A bath mat is an addition to a towel program, it is used specifically outside the tub to absorb water dripping after your shower. A bath mat can be used for multi-purpose reasons aside from the bathroom. 
Can You Use Towel As Bath Mat – Conclusion
Now that you are certain you can use a towel as a bath mat, you can save your money by DIYing your bath mat yourself. You could also use your old towels for other things aside from a bath mat. I hope your questions have been answered. Kindly put down your comments in the comment section below. Cheers…