Paper mache is the French description of 'chewed up paper', a sort of technique for creating three-dimensional objects, like a sculpture from pulped or pasted pieces of paper and binders such as glue or even plaster. But, can paper towels be used in paper mache? We shall soon find out.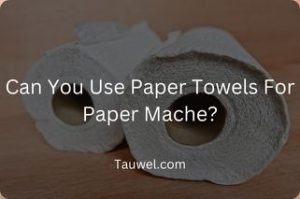 Specifically, any absorbent piece of paper can effectively be used in creating paper mache. These include paper towels, reams of cheap drawing paper, or even fine rag bits of paper as well for some fancy sculptures.
In addition, you can also use strips of cotton or any linen rag too. Notably, the newspaper is the most widely used in paper mache due to its rare consistency and also because it is equally a free or cheap material, so to say.
This does not imply that other types of paper cannot be used as effectively. Some people even prefer to use blue shop towels which are both very soft and highly absorbent too, although not as strong.
Paper mache is commonly utilized in creating masks, in which newspaper the most enjoys popular application in designing the base, even though that can be quite messy.
If the newspaper mixes with the glue, it can cause the ink from the paper to run. However, using fabric removes this mess and creates the same result, if not better than traditional pieces of paper.
Normally, to create a paper mache using paper towels, you should first mix one part of fine flour with approximately another part of water( one to one) until you have got a thick glue-like consistency.
Thereafter, proceed to add a little more water if it turns out too thick. Make sure that you mix them properly using a spoon or a small ladle to eliminate lumps.
In creating paper mache, strips of glued paper are shaped around objects and this paper assumes the shape of these objects once the paste dries up.
How do you make paper mache with paper towels?
Before you create any paper mache, there are certain things you require. Some of these items are old newspaper strips, flour and salt, PVA glue or any good wallpaper paste, Vaseline, a good paintbrush, acrylic paint, swatches of fabric, and any patterned paper to decorate the project and clear the varnish.
To make a paper cache with paper towels, you should first mix one part of the water. For example, 1 cup of flour and also one cup of water, or half a cup of flour mixed with another half cup of water until you produce a thick glue-like consistency.
Thereafter, you should add a little bit more water if it's somehow too thick. Then, mix them up very well with a spoon to rid the mixture of lumps of the ground or chewed paper towels.
Paper mache, or more precisely papier-mache, means ground paper. In this method, any absorbent paper towels, are made into torn bits of paper and mixed with any sticky paste.
The strips of paper are next shaped around any object whose shape it will automatically assume once dried. To get the result you want in creating paper mache, make sure that you get the correct consistency in the paper mache paste. Some people use flour to great effect or results.
In addition, you should use water to cover your workspace with bits of old newspaper or any kind of applicable plastic.
Another way to make the paste for the paper mache is to mix one part of the flour with 2 parts of the water, but pour the water in carefully while at the same time you should keep stirring the mixture.
Remove as many lumps as possible. Finally, put the whole setup in a microwave at full blasts for about half a minute, depending on the kind of microwave unit you got, which may require that you add less if necessary.
Common bases for paper mache are balloons, cardboards, chicken wires, shoe boxes, toilet paper rolls, and paper towel rolls as well.
Trending Searches
What's the best paper to use for paper mache?
Commonly, any absorbent, uncoated paper will do pretty well for the paper cache. Popular among papers with these required qualities are paper towels, reams of inexpensive or cheap drawing sheets of paper, or even fine rag paper for sculptures.
You can also utilize strips of either cotton or linen rag if you wish. However, old newspapers remain the most popular choice for paper mache due primarily to their consistency and also because the old newspaper is essentially free material, although other kinds of paper may work as well too.
Many people prefer to use blue shop towels, which are both soft and absorbent too, although not so strong as the others earlier mentioned.
How long does it take for paper mache to dry?
How long it takes paper mache to dry depends on several factors. One, it depends on how sunny and windy the day is, as well as the place where the setup is placed.
If you are using other alternatives of drying a paper mache aside from open drying such as with the aid of a microwave, it will depend on the capacity of the microwave unit.
However, after putting all these factors into consideration, paper mache should not take more than about 24 hours to dry completely.
Although you should make sure that you cover your form with a layer of small saturated newspaper strips at least. These strips should overlap and run in multiple directions too. After the application of the first layer, allow it to dry completely before you apply another until you are satisfied with the final result.
How do you stiffen paper mache?
To stiffen paper mache, there are two options. One, after applying the paste on the base for the project and smoothing it as required, you can opt to open dry your setup in airy and sunny surroundings, which will stiffen it effectively.
Alternatively, you can stiffen your work in a microwave by running it at full blast for about 30 to 45 seconds as the case may be.
Do you let paper mache dry between layers?
Yes, you may have to allow your paper mache to dry between layers, especially if you are applying several layers. Doing this will ensure that your project dries faster, is stronger, and can also be handled without any fear of damage.
However, letting the paper mache dry between layers can be a time-consuming procedure, but regardless, in the end, the result is well worth the time taken.
How many layers should you do for your paper mache?
In most cases, people commonly use 3 to 4 layers of paper mache which is enough for particularly the walls to support themselves.
However, if you wish to create something else that is bigger and more complex, such as a mask, for instance, it would be strongly recommended to use around fifteen layers or even more than that.
FAQs
What can I use as a base for paper mache?
There are several items you can use as bases for paper mache with impressive results, depending on individual preferences and what they intend to produce.
Most of these objects can be easily sourced in practically all neighbourhoods. However, commonly, most people prefer to use items like balloons, cardboard, chicken wires, shoe boxes, or toilet paper rolls as well as paper towel rolls too.
Can you make paper mache without glue?
Yes, you can make paper mache without glue, provided you have a paste that can work just as well. To do this, you should simply mix up two parts of water with one part of the flour(as an alternative to glue).
Next, pour in the water gradually while you keep stirring the mixture regularly. You should also try to remove as many lumps as would allow you to get the final result you want.
Thereafter, pop the whole setup in a microwave at full blast for at least 30 to 40 seconds. However, do not forget that microwaves vary in capacities, therefore, you can even add less if you want to.
The most important thing is to get the consistency you want in making the paper mache paste. Add water to cover your workspace with newspaper or any suitable plastic objects.
Can You Use Paper Towels For Paper Mache – Conclusion
Paper mache is the process of creating 3-dimensional figures or objects using just ground paper and other sticky substances like glue or flour.
After preparing the paste to the consistency you desire, proceed to wrap around your base this paste in layers if need be. Add one layer at a time after the previous one is reasonably dry.
Through this process, you will create an object in the likeness of your base that can be handled without any damage to the project.
You have the option of drying your project out in the open preferably on sunny and windy days, or with the use of a microwave unit at full blast for a period of between 30 to 40 seconds, depending on the type of microwave equipment you have.