Face towels are very important materials being that they are used on one of the most delicate parts of the body – the face. 
It is highly paramount that you know how to care for it while it's still in use and know just when to get a replacement, so you don't end up having skin infections or other ailments from something that is supposedly meant to help you maintain a good level of hygiene.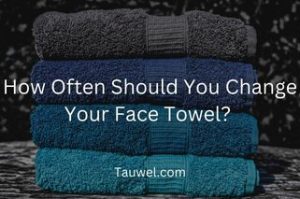 When should I replace my face towels?
It is very easy for bacteria and fungi to breed and set up some colonies on damp towels. What this means is that there is a high possibility of microorganisms developing on our face towels after the very first use. 
Did you know that every time we dry our body with a towel, we deposit bacteria, dead skin cells, oil, and others? When we reuse without first washing and drying them well, we dump them on areas that were previously devoid of such things and that is how things like skin infections and different kinds of skin reactions come about. 
To prevent the transfer of bacteria, face towels should be changed every three days. Before they are changed on the third day, ensure they are properly washed and disinfected after every use.
Should I have a different towel for my face and body? 
As it was stated earlier, the face is a very delicate part of the body and so, proper care is needed especially if you have sensitive skin. 
Because the face is delicate, a lot of careful considerations are made before producing anything for the face. For other parts, not as much. Face products and any other material for the face are meant to keep facial pores clear and face feeling smooth. 
Most of the effective products for the body do the exact opposite when it comes in contact with the face and this is why they are strongly not advised for use on the face. In essence, it is totally important to have a separate face towel specially made to cater for the unique needs of the face. 
What does a face towel do to your face? 
Face towels are soft plush towels specially designed to treat your face the right way. It is used to dry off not just water from your face but, excess oil and other remains from cosmetics and creams.
A lot of people ignorantly use face towels for other purposes like drying of hands, hair and feet and that can be unsanitary and can take back germs and bacteria to the sensitive face. Best practice is to get a different towel for each of these duties.
What to look out for when shopping for face towels
When you think of face towels, think softness. That is the number one quality a face towel should possess. Look out for some of the best quality materials that are used in producing the softest towels ever. 
For instance, set your eyes on 100% cotton. Egyptian or Turkish cotton is another premium brand of cotton that you should look out for. Turkish cottons are very organic, extra soft and absorbent. Treat your sensitive face skin right with face towels made with the best suited materials for it.
What is the difference between a face towel, a wash cloth and a hand towel? 
A lot of people abuse these towels and use them interchangeably for things other than their primary function. This is a serious breach of hygiene and must be stopped. 
These three different towels are produced to carry out certain distinct functions peculiar to them alone. Below is an analysis of the characteristics and functions of the face towel, wash cloth and the hand towel. 
Texture
When it comes to texture, face towels are a lot softer, wash cloths are soft too but not as much as the face towel. The hand towel on the other hand is a lot more sturdy than soft. This is due to the difference in the fabrics used for producing them. 
The skin on our face is different from that of our hands and entire body and as such, they require different form of care. 
Out of the three, the face is the most delicate and needs a more gentle approach while caring for it. This is why only the most exquisite fibers i.e the likes of the natural, soft and highly absorbent Egyptian and Turkish cotton are selected to make this highly important towels. They are gentle yet durable enough to survive a couple of washes. 
The hands, even though less sensitive still needs all the care that they can get too. The hands should be treated with utmost care because they can be carriers of germs and bacteria. The hands are the first point of contact for germs and bacteria and that's why we advocate for constant washing of the hands. 
Hand towels are made with either Turkish cotton or bamboo blends for that smooth and durable attribute.  Microfibers are usually used in producing wash cloths so they are super absorbent at the same time, gentle on your skin.
Size
Wash-cloths are the most smallest in size, so it is super easy to swing around your body while scrubbing. Out of the three, hand towels are produced to be the largest.
Now, to their functions
The face towel as the name implies is used to dry up water, excess oil, facial cleanser and the rest from your face. They are particularly meant for the face alone as you might risk transferring germs and bacteria from other parts of the body to the sensitive face if you use any other towel. 
On the other hand, hand towels are used for drying up after a hand wash. They are mostly kept in bathrooms and kitchen as there is a greater need for them there. 
Wash cloths are usually very small microfiber towels used for scrubbing the body in the bathroom. These three towels have their specific functions and using them interchangeably for things not meant for them can clearly be classified unsanitary.
How to properly care for your face towels
Because of how sensitive the face is, it is expected that you take extra care of things that it directly comes in contact with.
You should take proper care of the face towel in order to avoid experiencing skin infections and other unpleasant skin reactions. The guidelines are simple and straight forward. 
Wash face towels after each use:

Thankfully, face towels are very small and easy to wash. Do not leave face towels unwashed after use. Wash immediately to rid it off the bacteria and germs it has successfully wiped clean. 

Allow to air dry: A damp towel is a no-no. After washing, leave towels to dry completely before using them again. Air drying makes them totally unfit to house bacteria's and fungi. 
Replace face towels every 3 days at the minimum and every week at the maximum: A face towel hosts too many microorganisms. The constant wash after every use can only do so much but, to protect the face skin, see that they are replaced after their third use. Buy them in bulk so you are not left stranded when you do away with one
FAQs
How often should you change your bath towel? 
You change face towels a lot more frequently than your bath towels. A bath towel can last for up to two years as long as you care properly for it. However, it is advised that you wash at least every week to rid them of germs and bacteria. 
If your bath towel loses its absorbency power, it all means it would be unable to function optimally and would quickly need to be replaced. 
What kind of material is best for your face
I'll say cotton or a cotton blend. The reasons are obvious; they are fast drying and they go a step further in helping to rejuvenate dead skin cells. 
Can I use paper towels instead of a face towel? 
Strongly not advised. The paper towel has a hard feel and its texture is coarse. It is definitely not the kind of towel you want anywhere around your soft delicate face.
This, coupled with the fact that some of the chemical used in its production might be harmful for your face makes it completely prohibited from being used on the face.
How Often Should You Change Your Face Towel – Conclusion
As we make a conscious effort to imbibe healthy practices and maintain a high level of hygiene in our day to day activities, we should remember that our towels play a very vital role.
Proper care of our towels should be considered important. The face towel for instance, should be treated with utmost care as it tends to the most sensitive skin on our body. 
It is imperative that we commit ourselves to washing it after every use and change it as frequently as it should be changed to avoid any form of health related problems.