Why Are Some Cotton Towels Not Absorbent? Some towels are produced with cotton blended with synthetic materials like rayon, polyester, nylon and others. These materials aid in making the towels plush and soft but only a towel made out of 100% cotton can be very absorbent
Fabrics are very different in nature. Some are naturally more absorbent than others. There are even cases where you can spot noticeable differences between two materials made of the same fabric. This is so because we can have high-quality and low-quality versions of the same fabric. 
So, wonder no more when you have a cotton towel that is super absorbing and another one that performs very poorly in soaking up liquid.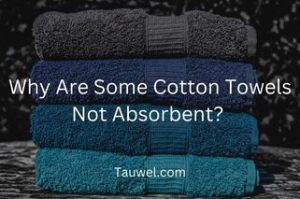 Other reasons why cotton towels do not absorb liquid
Cotton towels not absorbing properly is not just an issue of low-quality fabrics alone. Other factors might be responsible for their sub-par absorbent power. 
For example, manufacturers of cotton towels focus more on its texture rather than the absorbency power. This happens all too often. To this end, they use silicon as a means to making the towels soft to the feel. 
Extra soft towels are great no doubt. The feeling of having that softness brush all over your face and body is nothing short of heavenly but, the silicone added to achieve this softness militates against the towel's absorbent quality. 
This is because most silicone can be classified as hydrophobic. So, it repels instead of soaking in the water. When cleaning up spills with towels containing silicone, it pretty much feels like you are making a bigger mess as the water just bounces back and spreads wider
Secondly, the washing method you employ might also be the reason why your towel's absorbent power reduces. 
How do you wash your towels? What kind of detergent do you use? Do you make use of fabric softeners or dryer sheets? 
The aforementioned can in no small measure, adversely impact the ability of towels to absorb. Fabric softeners clog the fibers and leave off some residue that limits how well your towel absorbs. 
Also, pay close attention to how the towels are being washed. If they are washed together with other materials, they can attract lint to themselves. Lint on towel will ultimately cause a damage to their delicate fibers and cause them to absorb poorly. 
Again, be sure that the detergent used is without any form of additives. What you gain from using fabric softeners, dryer sheets or even bleach is more silicone being added to the towel thereby reducing further, it's absorbent power.
How are towels made? 
Towels comprises mainly of the pile and base weave. Those are the two main parts of a towel. The loops of the towels are indicated as the pile. Now, you need to give your full attention to what the care tag says.
Most labelling tags on towels reads 100% pile and a lot of consumers assume it means the same as a 100% cotton. Well, now you know it doesn't. 
Consumers owe it to themselves to read up on the properties of the products they are about buying. It saves you the stress of having to make a repeat purchase when the goods do not meet your expectations. 
100% pile indicates that polyester jas been used at the base weave. Every detail pertaining to the loops; the amount, thickness and texture, how tightly or loosely joined they are, determines to a great extent the level of absorbency the towel would have.
There you have it. It's clear that most wrong purchases happen due to ignorance. So, when next you go towel shopping, watch out for those made with pile of thin yarns and you can be sure to get your money's worth.
How to know if your towels are made with the winning combination of deep pile and thin yarns
This can be done by simply reading the labeling claims or the care tag. While reading, look closely for the grams per square meter of the fabric. (GSM is the unit of measurement for fabrics). The higher the GSM, the better the quality of the towel.
Are there any downsides to having absorbent towels? 
Just a handful of them. In fact, the cons are so few that they are almost insignificant. After outlining them, I'm sure we would all come to an agreement that the positives far outweigh the negatives. 
The one that stands out the most amongst the negatives is the fact that absorbent towels are usually thicker so, a lot more energy is exerted during laundry especially if you are hand washing. 
Also, it takes a longer time to completely dry, so you would most likely need to have a spare that you can use in the interim. See, that's not so much of a problem now, is it?
What are the different kinds of cotton and which is the best for making towels? 
Surprised there are different kinds of cotton? Don't be. Just like other fabrics, cotton comes in several variations. Some are top-notch quality, others are average then we have the sub-par ones.
However, we cannot categorically state which is best for producing towels. This is because consumers look out for different things when purchasing a towel. Some are big on absorbency, others on the texture, there are people that even look out for water-repelling towels. 
So, the exact cotton that performs the function you desire, would be considered as just right for you. Going further, let's delve into some of the striking features of towels and the right cotton that it should be made of:
If your focus is on a soft texture, that is, towels that are extremely soft and fluffy, watch out for towels made out of bamboo materials.
To buttress how soft they can be, the bulk of baby towels are made using bamboo materials. Another added advantage of this material is that it is very eco friendly. 
Now, to the most popular feature most people look out for; the absorbent feature, you will find the set of towels made with the best quality Egyptian and Turkish cottons to be very absorbent. 
The towels in most of the 5 star hotels all around the round are made with the best Turkish or Egyptian cottons primarily for its superior absorbing quality. Towels made with this cotton perform an array of functions and can be used for bath, cleaning, detailing towels, etc.
If your are on the search for light towels, the ones made of microfiber's are your best bet. They absorb speedily and take up a tiny space. They are most preferred for bikers,  sports men, and women, plus, it fits perfectly into your camp bag, backpack, gym bag, etc
FAQs
What are the different types of towels we have? 
Towels are multitaskers and as such, we have different kinds of towels produced to serve in different capacities. They are:
Bath towels:

These are used daily to dry up after bathing. They are made in different sizes, some big enough to go round your chest or waist.

Travel towels: These towels are usually very light due to the fact that they are made of microfiber. They are super absorbent and take up very little space in your travel bag.
Scrubbing towels popularly known as wash cloths. They are used while bathing to scrub sensitive parts of the body like the face for instance.
We also have baby towels, hand towels, swimming towels, and the likes.
What is the standard measurement for heavy and thicker towels?

 
We already know that a higher GSM indicates just how heavy and thick a towel is. A GSM within the range of 300 – 900 can be considered thick with 300 being the least thick and 900, being the highest and thickest.
On the other hand, lighter towels like that used in the kitchen or other microfiber towels usually fall within 300 – 400 because of their feather-like weight. 
In between the highest and lowest, we have the medium weight towels measuring as from 400 – to 600 GSM. 
Why do old towels absorb better than new ones? 
Both old and new towels have the potential to absorb moisture as long as they are of good quality. 
However, new towels have a bit of residue of dye and other coatings acquired from the production cycle. These residues tamper with the fibers and impede the rate at which the towel absorbs. 
The only reason why old towels seem to absorb better is because they must have undergone series of washing and in the process, erased completely the unwanted coating. 
To get your new towel up to speed, wash in warm water before use then add a cup full of vinegar to the rinse cycle to rid them off the remains from the production cycle.
Why Are Some Cotton Towels Not Absorbent – Conclusion
Not every towel is manufactured to be absorbent, some are made to be a lot more soft than absorbent, we equally have the ones that are produced to be zero percent absorbent. 
So, you see, different towels are made differently to serve different purposes. It is totally left to you to look out for towels made to serve the specific purpose you need them for. 
Endeavour to get a high grade quality of the kind of towels you need, see that they are properly taken care of and you would not have to go towel shopping in years to come.