Do you have orange spots on your towel? This can be really irritating especially if it's your favourite or a white towel. Orange spots can be caused probably due to rust, you can simply clean it away by using a rust remover product, you can buy this in your nearby supermarket.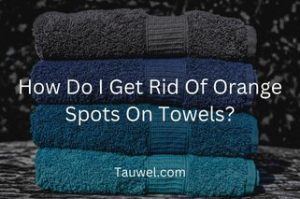 How Do I Get Rid Of Orange Spots On Towels? To get rid of rust, The very first step you should take before applying the rust stain remover is to read the care instructions on the towel by the manufacturer and the guidelines on how to use the rust removal product.
If you don't read the instructions you may end up destroying the towel. Below are other solutions that will help you remove orange spots caused by rust.
Use White Vinegar
White vinegar is one of the most amazing rust stain removers you can purchase. If you act fast when you notice the rust stain on your towel it will be easier to clean away the rust.
Firstly, place your towel on a flat table or surface. Put a little quantity of vinegar on the affected spot, leave it until it saturates. Blot the spot with a clean sponge or cloth, to suck up the stain. Then lay the towel in direct sunlight to dry, so the stain will begin to fade.
The next thing to do is to wash the towel with your normal laundry detergent, following the manufacturer's instructions. If the stain doesn't vanish, repeat this procedure over again.
Apply Lemon Juice and Salt
You can also use lemon juice in place of white vinegar, which is very useful if the stain has been on your towel for some time. Start by sprinkling salt on the stain, then pure the lemon juice over the affected spot, allowing it to sit for ten minutes.
Blot the stain with a clean sponge, then lay the towel under the sun, to dry. Make sure to check the towel every hour to avoid bleaching the towel due to the lemon juice.
Leave the towel under sunlight for about 3 hours or until the stain vanishes. Finally, rinse the towel with cold water properly, and wash again.
Use Cream of Tartar
Cream of tartar, scientifically, it's an acid salt, a residue (by-product) of tartaric acid obtained from winemaking. It's an excellent option for removing stains from white or light colour towels because of its acidic properties.
Put a little baking soda into the cream of tartar, add hydrogen peroxide to the mixture and stir together until it is thick as a paste. Put the paste on the affected spot on the towel.
Leave the paste to sit on the towel for 30 minutes. Then rinse off the paste properly before washing the towel. Before drying the towel, confirm if the stain has gone. If it hasn't been removed completely, repeat the same process until it is no more.
Use Baking Soda
Baking soda is another option we can use to remove rust stains on a towel. Put a small amount of baking soda in a bucket of water, properly soak the towel in the solution. Soak the towel in the bucket of your solution for 20 to 25 minutes, afterward wash properly with a mild detergent.
You can achieve the same result by adding a little water to your baking soda to form a paste. Apply the paste over the orange spots and leave it to soak into the stains. Use an old clean toothbrush or sponge to clean the affected area. You should repeat this same process a few times to get a better result.
Use Rhubarb – A garden plant
The rhubarb in your vegetable garden is an effective way to treat rust stains. If there are lots of spots or if the rust spots are larger than usual, you might want to use this environmentally-friendly stain removal method.
Find a bucket and soak the towel inside it. Make sure the water is enough to soak the towel properly. Boil the rhubarb stalks for 20 minutes, before removing the stalks in the water.
Then soak the towel inside the hot rhubarb water for 10 minutes. Then check if the stain has been removed totally, this should work effectively.
Rust Remover Product
Using conventional rust removers can easily remove rust stains. You can find these rust removal products in the laundry section in your nearby stores. Diligently follow the care instructions on the label of your towel.
Carefully apply the rust remover to the stained area on the towel. Let the towel soak in the solution for 5 minutes. After the chemical is absorbed, rinse and wash the towel with your detergent.
Trending Searches
Causes of Orange Spots on Towel
Whenever you see a rust stain on your towel it's important to find out how the stain came about to prevent further stain on other towels.
Check your washer for rust
Carefully inspect your washer for rust, especially if it's an old washer. Older washing machines may contain rust on the inside. Rust can easily be transferred to your towel, especially if the towel is not immediately removed from the washer after washing.
Check for Iron
Your water could contain iron oxide which could be the reason behind the orange spots on your towel. So test your water even if it looks clear.
Use a water test kit to identify if your water contains iron oxide. If you find iron in the water, you should treat the water to avoid any stains in the future.
Generally, water softening systems are effective at removing lower concentrations of iron. While water filtration systems are effective at removing higher concentrations of iron.
Drought
Are you experiencing a low water supply in your area? Drought can cause sediment to accumulate in your pipes which can be the cause of the orange spots on your towel.
Pipes
Do you have any iron pipes in your house? Iron pipes could be the reason you're having orange spots on your towel. Bacteria can cause rust stains on your towels by interacting chemically with an old faulty iron pipe.
Disturbances
Recently, was there any damage to the water lines at your house or in your neighbourhood? Particles can enter your water through maintenance work, earthquakes, or back-flushing, causing orange spots or rust stains on your towels.
Water heaters
Have you inspected or cleaned your water heater recently? Rust and iron deposits can accumulate inside the water heater eventually when the particles break free in your washing machine, they may end up leaving orange spots on your towel.
Clothes Dryer
Dryers are made up of steel and enamel. A metal part of the dryer might be exposed which can cause orange spots on your towel. It's best to inspect and repair any metal part exposed in your dryer.
FAQ
Is it possible to remove orange spots caused by rust from towels with baking soda?
Baking soda is an efficient method for eliminating rust from towels. Put one tablespoon of baking soda in a half bucket of water. This mixture should assist in removing the rust stain.
Can hydrogen peroxide alone remove rust stains from towels?
No, hydrogen peroxide alone cannot remove rust stains on your towel. But it can remove rust stains from hard surfaces. You need to combine hydrogen peroxide with other raw materials to help remove rust stains on your towels.
Make a paste out of one teaspoon cream of tartar, one teaspoon baking soda, and a small amount of hydrogen peroxide, then apply it to the affected area, rinse it with lukewarm water, and wash it off.
Is baking soda effective at removing rust stains?
Yes. To use the baking soda method to remove rust stains, combine baking soda and cold water, add your laundry detergent, and pour the solution directly on the affected spot. Then wait for 30 minutes before washing the mixture off the towel.
Will bleach remove rust stain only my towel?
No, chlorine bleach is an oxidizing agent, and it's not the best option for cleaning orange spots caused by rust. In fact, Chlorine bleach can make the stains permanent, thereby ruining your towel for good.
How fast does vinegar remove rust from a towel?
It takes probably 30 to 60 minutes for the vinegar to remove rust stains. Continue to apply the vinegar mixture if the stain remains after you've applied it.
How Do I Get Rid Of Orange Spots On Towels – Conclusion
Before and after your laundry, frequently check for orange spots or rust stains, especially if you know about an exposed metal in your washer or if your iron pipes are old and bad.
If you notice any orange spots on your towels it's best not to overlook them especially because it's at the early stage and it will be easy to remove the spots on the towel at the early stage. You can use the natural way to remove the spots on the towel or you could just use some rust remover.
Mind you, read the care label instructions by the manufacturer before applying anything on the towel.