Oftentimes times, we've seen and heard people complain about their white towels changing colour; some people complained that their towels were turning grey. This leads to the question of why do white towels turn grey?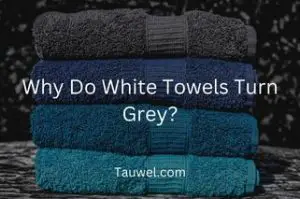 Your white towel might turn grey for the following reasons;
Using too many detergents
Washing with hard water
Washing coloured clothes with your towels
Stains from makeups
Not washing your towels on time after days of soaking them
Now that you know why your towels are changing colour, let's take a look at them one after the other.
Reasons why your towels are changing colours
Using too many detergents
White towels turn grey as a result of using too much detergent, soap, and limescale, or not using enough detergent which can eventually lead to the accumulation of scum (grey coating) or the build-up of dirt on the towel.
Washing with hard water
Also, it can be as a result of using hard water to wash your towel. It is usually difficult to form lather when washing with hard water. This is because hard water contains dissolved salts like calcium tetraoxosulphate(vi), magnesium tetraoxosulphate(vi), and calcium tetraoxosulphate(vi).
For you to wash properly when using hard water, you'll have to use enough detergent and over time, the minerals in hard water can change the colour of your towel from white to grey.
Washing coloured clothes with your towels
This problem can be as a result of washing coloured clothes together with white towels and other white items. When you wash a white cloth or towel with a coloured cloth, the dye on the coloured clothes can stain the white clothes.
Stains from makeups
It could also be as a result of your makeup staining the towel. Makeups are chemical products that can easily stain your towel without you knowing.
Failure to mix colours properly
Colours are added to some detergents and soaps. If they are not mixed properly during the making process they can wash out when you're using the soap to wash and stain your towel too.
Not washing your towels on time
Some people can soak their towels to wash them later. They might eventually forget and it could turn days or weeks before they remember that there is a white towel or cloth that has been soaked for days.
The dirt on the towel becomes so sticky because of how long you soaked the towel. There is a possibility of not washing the stickiness completely and this can accumulate over time.
Trending Searches
Solutions to towels that are changing colours
What I usually do when I want to wash my towel is that I will soak it in a bucket containing water, a very small amount of detergent, and bleach for some time before washing it. This usually helps to keep the towel white and clean, but if you have this problem, you can as well soak the white towel that turned grey in a bucket containing a small amount of vinegar, or citric acid instead of using a detergent because the detergent might make it worst.
Always avoid making the mistake of washing white-coloured clothes together with other clothes; they should be washed separated. Make sure you use clean soapy water to wash the white towel.
Some detergents are not meant to be used on white clothes and towels; instead of those detergents use the ones that contain bleaching tools like sodium percarbonate.
Avoid using very small or too much quantity of detergent. Measure the detergent that's going to be enough to wash the towel properly. Also, for you not to use too much detergent, make sure you are using soft water to wash.
Always remember to wash your towel a few minutes after you soak it.
How Do I Get My Towel White Again Without Bleaching It?
You may have a white cloth or towel you love to use or wear more than others maybe because of how it feels on the skin or the design of the dress, that has suddenly gone from white to grey, or from white to orange.
There is usually a reversible effect that can make them white again and the first effect that comes to your mind is bleaching, but you don't want to use that type of effect probably because you get skin reactions or irritations when you make use of bleach to wash your white towels or clothes.
The alternative for bleach is vinegar. Distilled white vinegar can help keep your clothes and towel white and clean. It also helps to soften and freshen the materials. Just a small amount of vinegar (like ½ cup of vinegar) can do the magic for you.
How To Wash A Towel To Keep It Fresh?
Ideally, I think it is best to wash your towels first before you wash other clothes when using a washing machine because the tendency for other coloured clothes to leave colours inside the washing machine is high and you might likely not be able to wash it out properly. So it is best to wash white towels first before any other cloth.
Also, if you're using a towel for the first time, wash them first before using them. Some people fail to wash them because they feel that new towels are always neat. Most new towels are covered in silicon and this silicon prevents the towel from absorbing water properly.
Furthermore, wash the towels with a good amount of detergent. You can add vinegar to the rinsing water to wash out the excess soap.
How Do Hotels Keep Their Towels and Sheets White?
Some hotels make use of white towels and sheets while others prefer coloured ones because they want to match the towels with their interior designs.
The towels are using big, fluffy, and soft. They are made from high-quality materials, that are very big, and able to absorb more water comfortably compared to the less-dense towels.
People using wonder how these towels and sheets are washed because of their sizes. The following steps will help you understand how white towels and sheets are kept white and clean in a hotel (though different hotels have their different methods and ways)
Most hotels treat towels and sheets to remove the stains on them.
The towels and sheets are soaked in a big pot that contains water, baking soda, or vinegar, and soap, or detergent separately and boiled for either an hour or half an hour.
Then after an hour, they are removed from that mixture and thrown into the laundry machine to wash them normally, rinsed, and spread to dry properly. Some hotels prefer to use a sonic soap to wash the towels and sheets because they give out high-frequency ultrasound waves that help to break down and remove very small stains and dirt that can not be seen with normal eyes.
Why Are White Towels The Best?
We all have to be concerned about the cleanliness of our towels because towels trap more bacteria compared to clothes or sheets.
Most people prefer to use a coloured towel be they think white towels easily attract dirt and the stains on them are more obvious compared to coloured towels.
They prefer coloured towels because they do not show dirty easily because of this, they will neglect to wash the towels regularly.
Some people can stay without washing their towels for 3 months because they feel it isn't dirty enough. This accumulation of dirt and bacteria on the towels can cause skin infections and disease. The following are reasons why white towels are the best.
White towels are way easier to keep clean than coloured towels because if for example, your towel is stained or gradually turns brown because of the accumulation of dirt you can just soak it with bleach or vinegar and leave it for some time. You will need little or no effort when washing it because the whiting agent has made it easy to wash.
White towels are durable than coloured towels. White is not a colour that can fade, so there would be no need to get a new towel as often as you would if you're using a coloured towel.
White towels give this feeling of cleanliness and freshness especially when they're washed often.
Normally, we're meant to wash our towels at least once a week to remove all the accumulated dirt and stains. This would help prevent you from having skin reactions like Atopic dermatitis (eczema), pimples, rashes, etc.
FAQ
What Does Vinegar Do To Clothes And Towels?
Some people have no idea that they can use vinegar to keep a cloth neat. Vinegar helps to remove detergent from clothes completely and they also set colours.
Is Vinegar or Baking Soda Better Than Detergent For Laundry?
It is safe to use vinegar and baking soda when washing with your hands or washing machine. But vinegar and baking soda are far below standard in comparison with laundry detergents at resulting in cleaner and brighter clothing.
Is It Possible To Mix Vinegar And Detergent When Washing?
People often ask if it is possible to mix vinegar and detergent when washing. The answer is no because vinegar will make the detergent less effective.
After all, vinegar is an acid. But It is very feasible to use vinegar and laundry detergent in the same clothing set, but never at the same time.
They are not to be mixed, rather vinegar can be used in place of laundry detergent. If detergent is used, vinegar can be added at the later rinsing stage once the detergent is certified to be completely removed.
Why Do White Towels Turn Grey – Conclusion
White towels turn grey or brown because of the accumulation of dirt. This happens when the towel is not washed frequently. Bleach, baking soda, and Vinegar usually help to remove stains and dirt properly.
Also, if you're getting a new towel make sure you get a towel that is soft, ultra-absorbent, and a towel made from cotton materials.
Hotels make use of thick big towels that are very soft especially white towels. Most hotels follow different methods to keep a towel and sheet neat; only very few make use of the sonic soak to make their towels neat and free from dirt.
Lastly, it is better to use white towels because they're easy to wash and also maintain. Towels should be washed at least once or twice a week to keep them neat.