Paper Towels are being sought every day because they come in handy and serve many purposes; from wiping spills and stains, cleaning the face, as insulators to wrapping a dish. 
Many prefer large-sized paper towels for almost the same price so they don't keep running back to the store frequently for new ones.
Brands are making good use of this customer's preference and are creating larger rolls, that is, more sheets for almost the same price while maintaining the quality.
Do you run out of paper towels too quickly and you wish to know how long a roll is? Sit back then and read on. This article will give you the various brands of paper towels and the length of their rolls.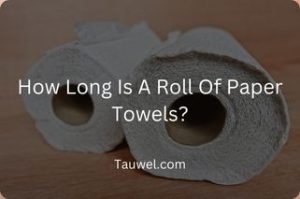 A regular roll of paper towels is about 49ft which is 590inches. Their roll's length depends on the brand, the number of sheets per roll, and also the width of the sheet. The higher the number of sheets the longer the roll is, with a product of the same sheet width.
Why Do Paper Towels Come In Rolls?
The first making of tissue papers that birthed paper towels was made in rolls of 1000 sheets. These days companies make paper towels in rolls probably because that is what has been and it offers more convenience. You can easily tear off the size you need. Paper towels are also made in stacks of individual sheets. 
Paper Towel rolls can also be hung on a paper towel holder and kept for convenient use. This would not be possible if they were just individual sheets of towels.
How To Measure A Roll Of Paper Towels?
Most brands of paper towels specify the number of sheets per roll and the dimension of the sheet and not the length of a roll and this may leave you confused about how long the roll is. 
Let's say a regular roll of paper towels has 40 sheets and each sheet is 5.9 inches wide, the roll's length is calculated by multiplying the width of a sheet by the number of sheets. And that will be 5.9×40= 236 inches, this will be 19.8ft.
If there are 90 sheets, it would be 5.9×90=531 inches, which is 44.3ft. And what if each sheet's width is 11inches? You just multiply it by the number of sheets. For the sake of this article, we will be using the measurement in feet.
How Long Should A Roll of Paper Towels be?
There is no standard length of a paper towel roll as the size depends on that brand and the number of sheets they make.
Some make as many as 1000 sheets per roll. A roll can be as long as 900ft. Yes, that is how long a brand can make its rolls to satisfy customers. So when next you go shopping you can select the size of rolls that will be convenient for you and your money.
Trending Searches
How Many Sheets Per Roll Do Paper Towels Have?
The number of sheets per roll of paper towels varies from brand to brand. A regular roll of paper towels can contain at least 100 sheets.
Larger rolls reach up to 1000 sheets. Each brand makes products with a different number of sheets. So there is no specific number of sheets to a brand.
Various Brands Of Paper Towels And Their Length Per Roll
As earlier stated, different brands come in different sizes and qualities. We will be looking at some of the various brands and the length of their paper towel rolls.
Bounty
This is one of the leading brands with very thick layers of sheets that allow for good absorbency. Bounty designs different products to meet the everyday needs of its customers. 
Some of their products include:
Bounty essentials paper towel; this product is a white, regular roll paper towel. Has 40 sheets per roll. Roll's length is 19.8ft

Bounty select-A-size; it has 131 sheets and 84 sheets per roll. Roll's length is 64.4ft and 41.3ft respectively.

Bounty quick-size; this type comes in 60sheets per roll and 120 sheets per roll. Roll's length is 28.6ft and 57ft respectively.

Bounty essentials select-A-size; it has 73 sheets. Roll's length is 35ft.

Bounty select-A-size huge rolls. This is the largest roll with the strongest absorbing power. It has 210 sheets per roll. This roll is 103.3ft long.
Scott
Scott paper towels have fast-absorbing ridges to mop your spills. Their products include:
Scott choose-A-sheet regular roll; it has 68 sheets. This roll is 34ft long.

Scott essential high capacity hard roll; this roll is as long as 1000ft. This company-large roll of paper towels is long-lasting and quick absorbing.

Scott Universal essential high capacity hard roll; another type of company-large roll with 950ft per roll.
Brawny
 A typical brand that wipes your stain perfectly leaving no lint behind.
Their products include:
Brawny Tear-A-Square; this design allows you to tear a quarter, half or full-size sheet. It has 128sheets per roll. Roll's length is 62ft.

Brawny Pick-A-Size; it has 240 sheets per roll. The length is 118ft.
Viva
This paper towel has a soft cloth-like texture and does the perfect cleaning for you.
Viva choose-A-sheet signature cloth; has 88 sheets and 78 sheets per roll of paper towels. Roll's length is 38.4ft and 43.3ft respectively.
Sparkle
This brand comes in different colorful designs that will give you many options to pick from. It does the perfect cleaning job for you.
Sparkle Choose-A-Sheet; has 126 sheets per roll. It is 61ft long. 
Kirkland
Another brand that produces paper towels with good absorbing power. 
Kirkland Create-A-Size signature kitchen paper towels; it comes in 140 sheets per roll. The roll is 68ft long.

Kirkland signature premium big roll paper towel; has 80 sheets and 160 sheets per roll. It is 68ft and 78.8ft long respectively.
Presto
This brand is very good for tough messes. 
Presto Flex-A-Size paper towels; it has 158 sheets per roll. The roll's length is 75ft.
Brown Paper Towels
Brown paper towels are completely recycled paper towels made from unbleached cellulose. They are good absorbent and clean well. The universal size roll will last a long time. It is 800ft long.
How Much Is A Roll Of Paper Towels?
The average price of a roll of paper towels is $1. However, the price of different brands of paper towels is not the same. Each has its price list and this can also vary depending on the type of product. You should buy in packs, this will be less expensive and stressful.
How Long Is A Roll Of Reusable Paper Towels?
Most reusable paper towels do not come in rolls but individual sheets. However, some do. Let's take a look at three popular brands that come In rolls.
Earthly Co

.
This is one of the best brands of reusable paper towels. It is made from 100% cotton fibers. Very strong,  reliable and cost-friendly. It has a lemon print design that makes it colorful. 
It comes in rolls of 10 sheets. Each roll is 9.5ft long.
Lola
Lola wowable reusable paper towels made from 70% wood pulp and 30% unbleached cotton are much stronger and absorb faster and better than regular paper towels. They come in a roll of 30 sheets. A roll is 22ft long.
AM NOLMIT TRADE
This brand of reusable paper towels is made completely from organic bamboo plant fibers. They come in rolls of 20 sheets. A roll is 20ft long.
Reusable paper towels are much stronger and more absorbent than the usual paper towels. They are thicker and will clean tough messes perfectly. They are environmentally friendly and cost-effective. Wash and dry after use.
FAQs
Does The Size Of Paper Towels affect the quality?
The size of paper towels does not affect the quality. Brands make different sizes to accommodate the choice of their customers. To be on the safer side, check out for these qualities to buy the best.
Check absorbency; A good paper towel would absorb liquid quickly without breaking. This is the most important quality to check out for.

Check the weight: The best paper towels should have a weight of 4.4pounds or 2kg. The weight will allow it to clean and mop spills without tearing off.

Check the strength: this is another very important quality to check for. To check the strength, you can place marbles in the center of the towels and see how many marbles each towel will hold. Paper towels made from virgin paper pulp are much stronger than recycled ones.
A typical paper Towel is 11inches tall. But this will vary from brand to brand.
How Long Is A Roll Of Paper Towels – Conclusion
Paper towels are essentials in the home you don't joke with. The size and the quality is a very important factors to check out when buying. 
A very large roll will last you and your family for a long time and save you from always running to the store for another. You can buy the 1000 sheets per roll and buy them in packs of many rolls and come thank me later.