When you go camping, you'd be opportune to do a lot of activities such as fishing, walking along a stream, and all that could make you wet. This means that having damp clothes when camping isn't avoidable.
However, you need to dry your clothes or towels to prevent you from having a cold, or to prevent them from stinking. Fortunately, drying clothes or towels when camping isn't much of a hassle, regardless not everyone knows how to do it. These and many more would be discussed in this article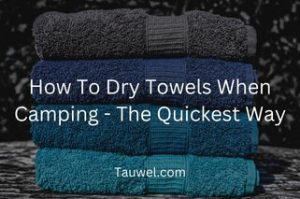 So, How do you dry towels/clothes when camping? Below are several ways to dry your towels when next you're going camping
Fix your clothing line
Dry with a dry towel
Use a camp chair
Spread the towels on the grass
Dry the towels in your car
Use a Collapsible clothing rack
You can dry your towels when camping with different methods, and they are not difficult. However, before we proceed with the methods, I will give you a few tips you should always remember when camping. 
Tips
Do not leave wet clothes in a bag for more than a day. If you do, the towels or clothes can get stained or start smelling. 

Never sleep or stay in wet clothes when camping as you can develop hypothermia.

Always go camping with rope. 
After noting all of those tips, you can proceed with drying methods. Below are the ways you can dry your clothes and towels when camping. 
Method 1: Fix your clothing line
One of the simplest ways of drying your clothes or towels while camping is by doing the traditional way. There will be trees or poles where you are camping, so you can easily make use of them. Now, this is where the use of rope comes in. so, how do you go about fixing your clothing line?
Step 1
Look for two trees or poles that are closer to each other for you to tie the rope in their midst. 
Step 2 
Make a knot on each end of the trees or poles and ensure the rope is tight. Also, you can use other things aside from ropes such as strings or twines. 
Step 3
Squeeze out excess water from your towel to help it dry faster. You can do that by twisting the towel with your hands. Note- if you are trying to dry your clothes, you can follow the same process. 
Step 4
After squeezing out too much water, spread the towels or clothes flat on the line. Ensure you leave some space in between if you are drying more than one towel. If you brought clothing pins, you can use them to pin down the clothes.
Step 5
You can make a campfire a bit closer to where you are drying the clothes or towels to speed up the process. Also, ensure you are conscious of the weather. If the weather changes, be ready to pack the towels and clothes to your tent before the rain starts.
Trending Searches
Method 2: Dry with a dry towel
Another way is by drying your towel with your dry towel. In this process, you won't need any rope. It is also as easy as the first method. Although you would be needing your strength for this method. You need some materials and steps for this method.
Materials
Step 1
Lay flat the dry towel(s) on the floor, then put your wet towel on it. 
Step 2
Wrap the wet towel with the dry towel(s), and still leave it on the floor. 
Step 3
You need a little bit of your energy in this step. So, stand on the wrapped towels to extract all the water in them. You can stand on it for about 10 to 15 minutes.
Step 4
After standing on it for that duration, almost all (if not all) the water would have extracted out of the wet towel.
Step 5
Then, bring out the wet towel and lay it flat on a rock. If you can't find a rock, you can dry it at the back of your tent. Let it dry in the sun for an hour or two. 
Step 6
Also, you have to be weather conscious to avoid the towel from getting wet again. Pick up the towel from your tent or rock before it starts raining and hang it in your tent. You can dry on a line attached to a spare pole from the terrace. 
Method 3: Use a camp chair
When going camping, you'd always pack camp chairs to relax at night, and to use while fishing. Your chairs can be of help to dry your towel. How do you go about it?
Step 1
Squeeze out the water in the towel, so that it can dry faster.
Step 2
Then, lay the towel on the back of your chair. 
Step 3
Since it's a camp chair, it's thin. So, you can use a clothes pin to hold down the towel on the chair.
Method 4: Spread the towels on the grass
Another option is spreading on grass. If you do not have a rope, a camp chair, or an extra towel, you can spread the wet towels on the grass.
Step 1
Squeeze the towel to get excess water out of it. By doing this, it will take less time to dry.
Step 2
Then, lay it flat on the ground. Get about 4 small stones, and place them on the towel's edges.
Method 5: Dry the towels in your car
Of course, you'd drive to the camping area. So, your car is another alternative for drying your towels. It might not look like it, but your towels would dry even in the worst weather.
Just ensure you squeeze out the excess water in the towel before spreading it on the car seats. Also, you can dry your towels over the back of the car. 
Method 6: Use a Collapsible clothing rack
If you are lucky to go over with a clothing rack, then you can easily dry your wet towels or clothes. You are just going to go through the same process you do at home. Squeeze out the water, spread it on each pipe on the rack, and use your clothing pin to hold them down.
Are there camping towels?
Of course, there are camping towels. Camping towels are manufactured to be super porous and fast drying. Instead of going camping with your regular towel, you can purchase these towels.
You might be wondering where you can get these camping towels, I'd recommend a few camping towels I'm familiar with.
1. 4Monster Camping Towels 
Chck Price
This is one of the camping towels you can purchase for camping. It was made to satisfy your needs while camping. Below are more pieces of information about this towel.
Features

 
Special carrying case- Instead of carrying a woven bag to pack your towels, you can easily use the Eva box added to the package to make carrying more comfortable and portable. The box can protect your towel and still create space for other things in your backpack. 

Absorption and fast-drying- It is more porous than your regular towel, and can be reused and dried within a short period. The towel is lightweight and you'd hardly feel it when you put it around your neck. Also, it's situated for camping, gyming, and other activities.

Skin-friendly- This towel was made with microfiber and it offers a fluffy and smooth feeling on your skin while in use. In addition, it is easy to maintain. But do not bleach.

Durability- It doesn't fade while in use as it's 100% durable. Also, the towel doesn't stink after use. 
Pros
Available in different colours.

It has an extra box that is portable and space preservation.

Produced with high-quality material.

Fast-drying, lightweight, and porous.

No smell after use.

The towel is for multiple uses.
Cons
This camping towel can be too thin. 
2. Youphoria Microfiber Quick-Dry Towel & Camping Towel 
Check Price
Another option for a camping towel is Youphoria Microfiber. What's the use of a towel if it does not provide all you need? This towel is very similar to your home towel. Let's take a look at the information about this towel. 
Features
Arrange for any situation- This towel is an all-purpose towel that's available in three different sizes according to your needs. If you need a camp towel, gym towel, or hiking towel, the Youphoria travel towel has got you covered. The towels are packable for any occasion on the go.

Very porous and quick-drying fabric- It can hold about 5 times its weight in water which makes it the most functional towel for travelling or camping. It dries faster than your regular towel. Also, it's ideal for both indoor and outdoor activities.

Very soft feeling- The Youphoria towel is a multi-use, fast-drying towel that has a soft feeling on your skin. It's perfect for drying your skin after any activities when camping or hiking. 

Simple packing and hanging- The towel comes with a box for easy packaging and a hang loop attached to the end of the towel. 
Pros
Easy to use and maintain.

It is skin-friendly and fast-drying.

It can be used for different purposes.

Absorbent and fluffy.

Extra packaging box for each towel.
Cons
The edges of the towels are not well-trimmed.
Conclusion – How To Dry Towels When Camping
Drying your towels when camping isn't much of a hassle when you follow the right steps,  just like what has been provided for you in this article.
You just need to pick one method and heed the steps. Also, camping towels have been recommended in this article. Kindly click on the link to check the prices of the towels.