After using your car accessories to clean your car, getting the grease or wax out of those accessories can be quite stressful. It can be stressful, but not impossible.
Perhaps you have tried all the washing methods you know, and the wax and grease would not get off from your towel. So, let's find a more legit way to get those wax out of your car maintenance accessories. 
There are quite a few easy steps to get car wax out of towels, but before these methods are provided, you need to keep some things in mind.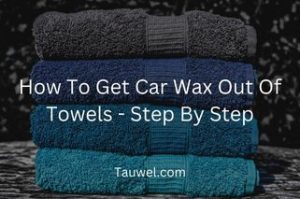 Note:
Separate the towels according to the fabric- cotton to cotton, microfiber to microfiber, silk to silk, and so on. 

Never use fabric softener on your towels- Since microfiber towels are mostly used for cars, do not use softener on them. A fabric softener can easily seal the opening in between the fibres in a microfiber towel, and make the towel futile. 

Do not dry your towels on high heat as the temperature could make the towels shrink. 
Expert Ways To Getting Car Wax Out Of Towels
After noting all those tips, then you can proceed with the methods. Below are the methods to get car wax out of your towels.
Use hot water.
Use white vinegar.
1. Use hot water 
You might be surprised that hot water can be used to get wax out of towels because it is said to always set stains. It's a different case here as we are dealing with wax.
Coldwater cannot get wax out of towels, it will only make matters worse. So, use warm or hot water instead, but the hot water to be precise. Below are the materials and steps for this method. 
Materials
Mild laundry detergent

Hot water.
Step 1
Rinse or soak the towels for a few minutes. Soaking the towels will release a good amount of wax.
Step 2
After soaking the towels, pour the liquid soap on the wax area and let it sit for some minutes.
Step 3
You can either hand wash or machine, but ensure you wash with hot water.
Step 4
Once you are done washing, rinse thoroughly. Do the rinsing repeatedly, then hang dry your towel. Also, you can use your drying machine, but on low heat. 
Trending Searches
2. Use white vinegar
White vinegar is a strong agent for removing all kinds of stains or spots, including wax. You can also use the hypo-allergenic dye to get rid of the wax. Below are the materials and steps needed for this method.
Materials 
Step 1
Mix the white vinegar with a little bit of water. You can make it 50/50 or 55/45.
Step 2
Apply the mixture on the wax, let it sit for a few minutes. Rinse thoroughly till the mixture and wax is off.
Step 3
Then, wash the towel with your hands or machine with hot water on a gentle cycle. After washing, rinse, and dry. 
Are microfiber towels good for waxing cars?
Oh, yea! Microfiber towels are good for waxing cars. Not only are they good, but they are the best choice. They are better than Terry towels that are made for cars. Microfiber towels have a unique ability to assimilate parched wax into their nap. 
Also, the intense stack of the towel will catch solidified wax when putting it on your car paint surface. In the case where other towels would cause scratches or swirls on your car surface, a microfiber towel will not do that. 
The stack of the towel will act as a protector of the car paint. So, which microfiber towel can you purchase for your car? 
Best microfiber towel for cleaning cars
1. Aidea Microfiber Cleaning Cloths-50 Pack
Check Price
This is one of the best microfiber towels you can purchase to wax your car. It was made to suit each of your needs for cleaning and waxing. This towel has amazing features that include;
Features
Fluffy and lint-free towel- This microfiber towel was made with 13% polyamide and 87% of polyester. It is Lint-free, fluffy, and super Absorbent.

All-purpose cleaning towel- Aidea cleaning cloth is multifunctional and functions with plain water. It's ultra-soft, a non-abrasive towel, and will not scratch your car's clear coat paint. Also, it can be used for different surfaces in your home.

Simple, clean, and durable- It is easy to use and the durability is increased per maintenance. 

Easy care and use- This towel should be washed with a warm machine wash. Do not bleach or tumble dry. It's available in 5 different colours to perform different cleaning tasks. 

100% satisfaction- This towel was made to satisfy by all means. However, if you have any issues, you can reach out to the brand's customer care service. 
Pros
Keep your appliances or truck spotless.

Durable and long-lasting. 

Fluffy – scratch or Lint Free.

Highly Absorbent. 

Ultra-versatile and machine washable.
Cons
You might have to use three towels at a time to get a thick texture. 
2.

S&T INC. Microfiber Cleaning Cloths Reusable and Lint-Free Towels for Home, Kitchen and Auto, 11.5″ x 11.5″, 50 Pack
Check Price
Another microfiber towel you can purchase is this towel. It's as unique as the initial towel I recommended. Let's take a look at the information on this towel.
Features
Long-lasting quality- This towel would continue to work perfectly after a lot of washing. After washing, the towel will remain 100% absorbent as it was initially. It was made with 80% of polyester and 20% of polyamide.

All-Purpose cleaning towel- It is capable of doing all types of cleaning tasks, including waxing your car. It will not give them any form of scratch or swirl. Also, this towel cleans perfectly with water.

Reusable and machine washable- The edges of this towel are stitched so that it won't fray while in use. You can keep using it after every wash. 
Pros
Overlock stitched edges to prevent unraveling. 

Remains effective after a lot of washing.

Highly Absorbent.

It's an all-purpose towel. 

Perfect for heavy-duty cleaning.
Cons
It was made in small size.
3. Dry Rite's Best Magic Microfiber Cloth 
Check Price
Of course, this is another microfiber towel you can use for waxing your car. It's also the best among the best. Below are the features of this towel.
Features
Use wet or dry- This microfiber towel can hold up to 7 times its weight in water which makes it suitable for cleaning without using any cleaning agents. You can use it when it's dry to dust or polish.

Lint, scratch, and Streak-free- It is suitable for all surfaces. When using it, it will not cause any scratches or streaks on your car. 

Long-lasting and easy to care for – The towel is machine washable and can be used and washed a hundred times. The towel is long-lasting, but do not bleach, or use softener on it. Use warm or hot water to wash. 

Money-saving- It saves your money as it's more than one in the pack. So, you can pick another one when the one you are using is bad. 
Pros
You can use it wet or dry without causing any scratches.

Super porous.

This towel is all-purpose. 

Remains useful after a lot of use and wash.

Available in different colours.
Cons

 
Can I reuse my towel after Waxing?
Of course, you can reuse your towel after waxing, but it is advisable to wash the towels before the wax dries on them. You can use your towel to do a lot of things after waxing, but washing it first is necessary. 
Once the wax dries on the towel, it can be very difficult to wash. While you maintain your car, you should also maintain the accessories you use on your car. 
When should you throw out microfiber towels?
You should throw out your microfiber towel after using and washing it about 450 times or more. Towels made with microfiber are one of the most economical cleaning equipment that exists all over the world.
They can be used to clean cars, used as bathing towels, clean furniture, and so on. Also, they save you from spending extra costs on disposable towels all the time.
However, you can't get a long duration of use when you don't maintain the towel properly. All the things you purchase, including towels and other clothing, need to be maintained for them to last long. 
Conclusion – How To Get Car Wax Out Of Towels
You can get wax out of your towels when you are on the right track. Luckily, all the things you need for the elimination are within your reach, you'd only need to get a few materials. The towels you can purchase for waxing your car have been recommended.  Kindly click on the link to check the price.